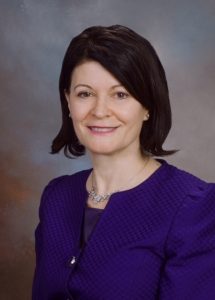 The annual May luncheon and Branch meeting was held on May 7, 2022, at River Bend Club. The guest speaker, Virginia State Senator Barbara Favola, addressed topics related to the Branch theme for the year: Equity: The Status of Women and Minorities. Senator Favola is a strong advocate on issues important to children, families, wage-earners, and the environment.  She highlighted the inequities facing women and girls in different aspects of society and what legislations she is working on, to remedy some of the issues. She has been a member of the Senate since 2012, and McLean is in her congressional district.
Senator Favola chairs the Rehabilitation and Social Services Committee and serves on the Local Government; Agriculture, Conservation, and Natural Resources; Rules; and Transportation Committees.
Senator Barbara Favola's remarks were inspiring to the three high school students who were being honored at the luncheon. They included Olivia Zhang and Talia-Rose Diorio, recipients of the Student Inclusion Recognition Award, and Gaby Bautista, recipient of the STEM Excellence Award.