We host morning and evening literature groups. Come for one or both. Enjoy good books, good company and good discussions.
Morning Lit Schedule for 2021-2022
Sept 10 Presenter
Caste: The Origins of Our Discontent, by Isabel Wilkerson Margie Broderick
Oct. 8
The Pull of the Stars, by Emma Donoghue Carol Mournighan
Nov. 12
Susan, Linda, Nina & Cokie, by Lisa Napoli Margaret Hines
Dec. 10
Diary of a Bookseller, by Shaun Bythell Reed Isbell
Jan. 14
The Dutch House, by Ann Patchett Angela Ehemann
Feb. 11
The Vanishing Half, by Brit Bennett Betsy Reddaway
March 11
The Code Breakers: Jennifer Doudna, Gene Editing, and the Future
of the Human Race, by Walter Isaacson Ruth Nowjack-Raymer
April 8
The Splendid and the Vile: A Saga of Churchill, Family, and
Defiance during the Blitz, by Erik Larson Joanne Field
May 13
The Plot, by Jean Hanff Korelitz Marge Degnon
June 12
Book Selection Luncheon for 2022-23 books
---
Evening Literature
McLean Branch AAUW
Evening Literature Group
2021-2022 Schedule
Date Title Host/Discussion Leader
September 20 Susan, Linda, Nina & Cokie: The Extraordinary
Story of the Founding Mothers of NPR,
By Lisa Napoli Aroona Borpujuri
October 18 Caleb's Crossing, by Geraldine Brooks Myrtle Hendricks-Corrales
November 15 The Code Breaker: Jennifer Doudna, Gene
Editing and the Future of the Human Race,
By Walter Isaacson Anita Booth
December tbd TBD
January 15 Hamnet, by Maggie O'Farrell Mary Lou Melley
February 21 Crying in H Mart, by Michele Zauner Diana Parsell
March 21 Long Bright River, by Liz Moore Pam Bacher
April 18 Klara and the Sun, by Kazuo Ishiguro Lynne Glikbarg
May 16 The Four Winds, by Kristin Hannah Cheryl Williams
June 20 Empire of Pain: The Secret History of the
Sackler Dynasty, by Patrick Radden Keefe Betsy Schroeder
---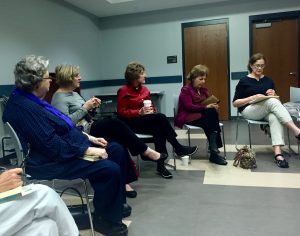 Click below for the book list.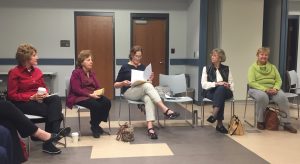 Books Selected – Morning Lit 2018-19