Welcome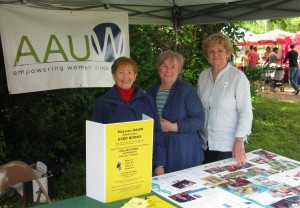 Join us!  There are six regular branch meetings during the year, plus the October Northern District Meeting, December Holiday Luncheon, April State Conference and Annual Business Meeting, and May annual spring dinner. Note:  Due to the closing of the McLean Community Center for renovation, branch meetings for September, March, and April will be held at the American Legion Hall, 1355 Balls Hill Road; November's meeting will be held at Lutheran Redeemer Church, 1545 Chain Bridge Road.  Please check the monthly newsletter for the other meeting locations once the venues are secured.  Guests are always welcomed.
Education and Advocacy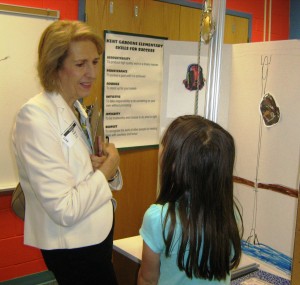 Each year in September, our branch holds a used book sale at the McLean Community Center. This September we will hold our 44th annual sale. For the past several years we have raised between $35,000 and $40,000, which allows us to support national AAUW programs and to give local scholarships.
We look forward to working within schools in our community. For many years our members tutored at the Pimmit Alternative High School. This last year members helped at a local elementary school's Dimensions of Invention event by evaluating the students' projects.
Our branch works with AAUW of Virginia and the AAUW Action Fund Capitol Hill Lobby Corps to advocate for a large number of legislative issues affecting women and girls. We support the AAUW Legal Advocacy Fund, which supports women seeking judicial redress for gender discrimination in higher education and in the work place.
Lifelong Learning
Our monthly programs (September thru May) feature recognized speakers and panels who provide the latest information and insight on a wide variety of subjects of interest to AAUW members. In addition to regular evening and daytime branch programs, we gather for a holiday luncheon in December and a branch celebration dinner in May. All of our meetings are open to the public. Please join us.
Members enjoy a variety of small groups that satisfy many interests. Branch special interest groups include a book discussion group, a current events discussion group, a foreign affairs discussion group, a daytime bridge group, and a special events group that organizes trips to cultural or dining events.
Publications
Our members enjoy three publications to keep up with AAUW national, state, and branch activities. The AAUW Outlook is published quarterly, the Virginia Vision is published three times a year, and the McLean Area Branch News is produced monthly for nine months.
Minutes of the
McLean Area AAUW Branch Meeting, click below:
Sept 2017
The meeting was called to order by Aroona Borpujari, Branch Co-President
Six local high school girls were recognized with STEM awards. To encourage young women to pursue educational opportunities related to STEM (Science, Technology, Engineering, and Math), the Branch partners annually with McLean, Langley, and Marshall High Schools to present one Science and one Math Achievement Award at each high school to the top junior girl. The students recognized at the event for 2017 were: Ashley Zhang, Math Achievement, Langley High School; Emily Buckingham, Science Achievement, Langley High School; Helen Oker, Math Achievement, Marshall High School; Tatiana Kennedy, Science Achievement, Marshall High School; and Nour Khachemoune, Science Achievement, McLean High School. The Math Achievement Award for McLean High School was presented earlier this year to June Chang. Each awardee shared her strong interest in pursuing STEM fields in high school as well as her plans for future college studies.
Juanita Cullen introduced Kelly Brown, Executive Director of Development Office, Trinity Washington University who made some remarks about the impact of our scholarships on Trinity students. The following scholarship winners gave brief remarks about their educational pursuits: Keyda Young, majoring in human relations at Trinity, Mahnaz Ghaffari, majoring in interior design at Marymount, Falen Yohannes, majoring in pre-med at George Mason, and Sandra Isidro, majoring in health administration at George Mason. These local scholarships are given to support women returning to school. They are funded through proceeds from our annual used book sale.
Business Meeting
The meeting was called to order at 3:45 p.m.
The Minutes from the May 2017 branch meeting were posted and approved.
Committee Reports
Allocations Committee: Nominations for members were taken and the following members were elected: Peggy Stotz (returning member), Milia Ali and Deborah DeMasi.
Public Policy and Lobby Corps: Mary Lou Melley reported that Federal Lobby Day is on Thursday, September 19, 2017. Please let her know, if you are interested in joining the group that is going to attend.
New Business
Betsy Reddaway presented the following motions on behalf of the Board:
The Board recommends that up to $3000 in a one-time expenditure be allocated from the reserve fund for program and membership to allow us to pay for speakers who require a fee and to fund membership initiatives to increase branch recognition and demographics through AAUW programs such as Start Smart and Work Smart.
The Board recommends that up to $500 in a one-time expense be allocated from the reserve fund for publicity, specifically for the design and production of more professional displays to represent our branch to the public at events such as McLean Day, STEMtastics and the Book Sale.
Both motions were adopted.
4. Announcements
The annual Book Sale will be held on October 6-8, 2017 at the Spring Hill Recreation Center, which is at the intersection of Spring Hill and Lewinsville Roads. The sale hours are: on Friday, 9:00 am – 7:00 pm Saturday, 10:00 am – 6:00 pm, and Sunday, noon – 4:00 pm. Please spread the word!
The McLean Branch/AAUW Northern District Meeting will be held on Saturday, October 21, 1:30-4:15 p.m. at the George Mason Regional Library, 7001 Little River Turnpike, Annandale. The speaker will be Kim Churches, AAUW's new CEO, who will provide an organizational update and also share her vision for AAUW's future as a leading organization for women's equity and education. Plan to arrive by 1:15 pm to enjoy refreshments and to network before the meeting starts.
On Tuesday, November 14, 7:00 p.m., the branch meeting will be held at the Redeemer Lutheran Church, 1545 Chain Bridge Rd, McLean. The subject will be human trafficking. There will be an expert panel of three to lead the discussion and answer questions: Dr. Liz Payne, Detective Bill Woolf and Counselor Deepa Patel.
On Saturday, December 9, at noon, there will be a Holiday Luncheon at River Bend Golf and Country Club. The speaker will be Helene Cooper, the New York Times correspondent for the Pentagon.
The meeting was adjourned at 4:20 p.m.
Adarsh Trehan
Branch Secretary
October 21, 2017