Welcome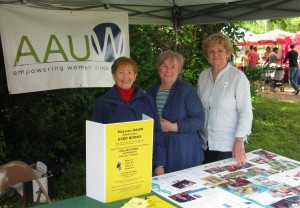 Join us!  There are six regular branch meetings during the year, plus the October Northern District Meeting, December Holiday Luncheon, April State Conference and Annual Business Meeting, and May annual spring dinner. Note:  Due to the closing of the McLean Community Center for renovation, branch meetings for September, March, and April will be held at the American Legion Hall, 1355 Balls Hill Road; November's meeting will be held at Lutheran Redeemer Church, 1545 Chain Bridge Road.  Please check the monthly newsletter for the other meeting locations once the venues are secured.  Guests are always welcomed.
Education and Advocacy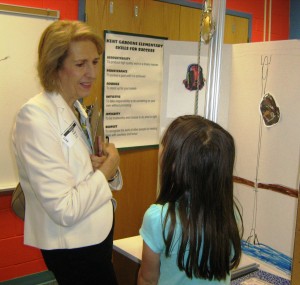 Each year in September, our branch holds a used book sale at the McLean Community Center. This September we will hold our 44th annual sale. For the past several years we have raised between $35,000 and $40,000, which allows us to support national AAUW programs and to give local scholarships.
We look forward to working within schools in our community. For many years our members tutored at the Pimmit Alternative High School. This last year members helped at a local elementary school's Dimensions of Invention event by evaluating the students' projects.
Our branch works with AAUW of Virginia and the AAUW Action Fund Capitol Hill Lobby Corps to advocate for a large number of legislative issues affecting women and girls. We support the AAUW Legal Advocacy Fund, which supports women seeking judicial redress for gender discrimination in higher education and in the work place.
Lifelong Learning
Our monthly programs (September thru May) feature recognized speakers and panels who provide the latest information and insight on a wide variety of subjects of interest to AAUW members. In addition to regular evening and daytime branch programs, we gather for a holiday luncheon in December and a branch celebration dinner in May. All of our meetings are open to the public. Please join us.
Members enjoy a variety of small groups that satisfy many interests. Branch special interest groups include a book discussion group, a current events discussion group, a foreign affairs discussion group, a daytime bridge group, and a special events group that organizes trips to cultural or dining events.
Publications
Our members enjoy three publications to keep up with AAUW national, state, and branch activities. The AAUW Outlook is published quarterly, the Virginia Vision is published three times a year, and the McLean Area Branch News is produced monthly for nine months.