AAUW McLean Area Branch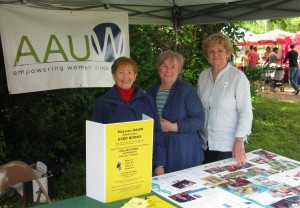 Founded in 1969, the McLean Area Branch is a non-partisan group of diverse women and men committed to the mission of the American Association of University Women (AAUW). AAUW advances equity for women and girls and encourages inclusion and diversity through advocacy, education, research, and philanthropy.  For more than 140 years, AAUW members have examined and taken positions on the fundamental issues of the day.  As an organization of over 170,000 members and supporters, AAUW commits to fighting for justice, long-term and lasting change, and stands in solidarity against racism.
We invite you to browse our website and learn more about our branch and our activities.  We offer educational and thought-provoking programs,  an open forum for discussion, and activities ranging from Current Events to Lobby Corps to Lit Groups to Arena Stagers to STEM.
There are six regular branch meetings during the year, plus the October Northern District Meeting, December Holiday Luncheon, Annual Business Meeting, and May annual spring luncheon or dinner. Note:  Due to the pandemic, we are conducting some branch meetings via Zoom.  Guests are always welcome.
McLean Area Branch encourages inclusiveness and does not discriminate on the basis of age, disability, ethnicity, gender identity, religious beliefs, sexual orientation, or socio-economic status.
Education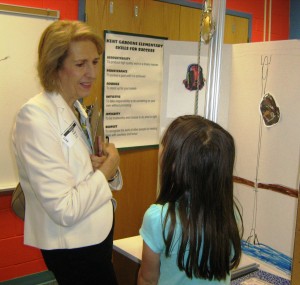 Each year the branch raises funds to provide scholarships for women and support other activities related to AAUW's mission. Our used book sale, which was held for fifty years in a row before the pandemic, has long been a popular event in the community and one of our strongest fundraisers. Over the course of 50 years of fundraising, the branch has funded more than $190,000 in local scholarships to women returning to college at local universities, as well as endowed an American Fellowship at $75,000, an International Fellowship at $100,000, and two Research & Projects Grants at $35,000 each.  In the years leading up to 2019, we have raised between $40,000 and $50,000 annually. We held our 50th annual book sale in 2019. Unfortunately, due to the pandemic, we have had to cancel the book sales since then. The latest information about the future of the book sale and our other fundraising efforts can be found here.
Our members have worked with schools in our community. For many years our members tutored at the Pimmit Alternative High School, and we have helped at a local elementary school's Dimensions of Invention event by evaluating the students' projects. We also partner with schools in our local community to encourage young women and girls to pursue educational opportunities related to STEM (Science, Technology, Engineering, and Math).
Advocacy
Our branch works with AAUW of Virginia and the AAUW Action Fund Capitol Hill Lobby Corps to advocate for a large number of legislative issues affecting women and girls. We support the AAUW Legal Advocacy Fund, which supports women seeking judicial redress for gender discrimination in higher education and in the work place.
Lifelong Learning
Our monthly programs (September thru May) feature recognized speakers and panels who provide the latest information and insight on a wide variety of subjects of interest to AAUW members. In addition to regular evening and daytime branch programs, we gather for a holiday luncheon in December and a branch celebration luncheon or dinner in May. All of our meetings are open to the public. Please join us.
Members enjoy a variety of small groups that satisfy many interests. Branch activities include two book discussion groups, a current events discussion group, a foreign affairs discussion group, and a daytime bridge group.
Publications
Our members enjoy two publications to keep up with AAUW state and branch activities. The Virginia Vision is published three times a year, and the McLean Area Branch News is produced monthly for nine months.