The McLean Area (VA) Branch of AAUW welcomes you to our website. Founded in 1969, our branch has strongly supported AAUW's mission to advance equity for women and girls through advocacy, education, philanthropy, and research. We invite you to browse and learn more about our branch goals, our programs, and our special interest groups and projects.
---
5-Star Branch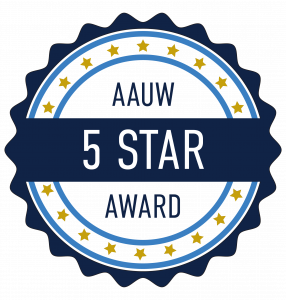 In June 2022, the AAUW McLean Area Branch was named a 5-Star Branch, the highest level for AAUW Branches. The process for applying took several months and the work of a number of Branch board members and leaders. We earned a star for each of the following five areas:
Programs
Advancement: Fundraising and Membership
Communications and External Relations
Public Policy and Research
Governance and Sustainability
---
Diversity, Equity, & Inclusion
The AAUW McLean Branch proudly announces the initiatives
started on DE&I (Diversity, Equity, & Inclusion) in the year 2021-2022.

Created the DE&I Committee and approved the Bylaws changes for committee co-chairs to serve as voting members of the AAUW McLean Area Branch Board.
Started a new Student Inclusion Recognition Award for high school students to encourage DE&I-related activities in the respective schools.
Started a new scholarship at Bennett College to extend our Branch's outreach to a more diverse and historically black educational institution.
---
Public Policy and Advocacy
Learn more about all our Public Policy and Advocacy activities here.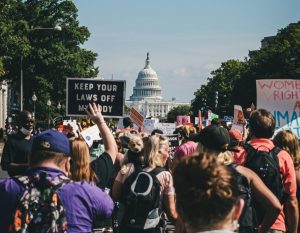 AAUW believes everyone has the right to make decisions about their own reproductive lives without government interference. Abortion access is vital to women's ability to control their lives, bodies and futures. Without reproductive freedom, there can be no equity. Click here to read the entire statement from AAUW National…
AAUW-VA has established 2022-2024 Public Policy Priorities in three areas: Equality, Individual Rights, and Social Justice; Economic Security; and Education. Click here to read more…
---
McLean Branch Celebrates our Student STEM Award Recipients
Each Spring, the McLean Area Branch sponsors three activities to encourage young women and girls to pursue educational opportunities related to STEM (Science, Technology, Engineering, and Math). In March 2022, we recognized the winners of the 2022 STEM Essay Contest, which is open to 7th and 8th grade students (girls and boys) at local public and private schools. In May, we awarded the STEM Excellence Award to Gaby Bautista for the project she submitted to the Fairfax County Regional Science and Engineering Fair. During April, we awarded the STEM Achievement Awards in math, science, and computer science at McLean High School, and in June we gave out the same awards at Langley High School.
---
2022 Book Sale Postponed
Fundraising for Scholarships to Continue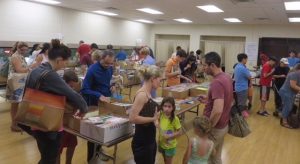 The AAUW McLean Area Branch will regrettably not hold a used book sale this year. We hope to restart this major fundraiser in the fall of 2024. We are making every effort to locate space for collecting, sorting and storing some 50,000 books we receive each year.
Fundraising for scholarships to be awarded in 2023 will continue this year through several smaller efforts. A fundraising committee is being formed to consider and implement several fundraising activities. We will announce these as they are scheduled. Read about our 2021 fundraising here.
We hope you will continue your financial support through these efforts so we may continue funding scholarships to young women.
---
As an Amazon Associate, we earn from qualifying purchases.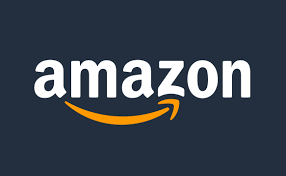 If you click on the Amazon link and then make your purchase, Amazon will give our branch a percentage of the purchase price.
---
Membership Renewal 
Our branch is pleased to announced that we had over 90% membership renewal for 2021-2022 – thank you to all our members. Let's do it again!
It is now membership renewal time. You may renew online or by check until June 30. Please send in your renewals by then, so that your names can be included in this year's directory. Annual membership dues are $93 ($67 national, $15 state, and $11 branch). Online payment is preferred, but checks made payable to AAUW McLean Area Branch can be sent to: McLean Area Branch Treasurer, P.O. Box 1002, McLean, VA 22101. Your membership continues the Branch support for women returning to college and the opportunity to participate in outstanding Branch programs.
Interested in joining? Click here to download a Membership Form.
---
AAUW Work Smart Online
AAUW has initiated the Work Smart Program, designed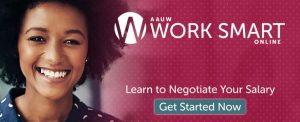 to help women close the pay gender gap by training them to negotiate for a new job, raise, or promotion.  The Program is free and available online at  https://salary.aauw.org/
---
McLean Area Branch Members Are Leaders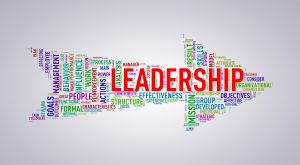 The McLean Area Branch nurtures and encourages women leaders.  A number of our branch's current members have been elected to national, state, and community offices. Read more…
---
Our Philanthropic Activities
Since our founding in 1969, the McLean Area Branch has been a philanthropic star, primarily through the proceeds of our annual used book sale. Read more…