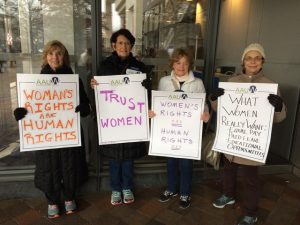 The McLean Area (VA) Branch of AAUW cordially welcomes you to our website. Founded in 1969, our branch has strongly supported AAUW's mission to advance equity for women and girls through advocacy, education, philanthropy, and research. We invite you to browse and to learn more about our branch, our annual used book sale and other branch projects, and our special interest groups. Please ask for more information when you read something that interests you.
---
McLean Branch – Leader in Northern Virginia AAUW Start Smart Initiative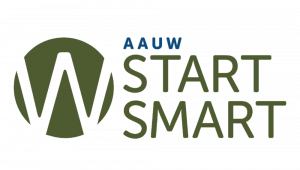 The McLean Branch has taken the lead for the Northern Virginia area in sponsoring the AAUW Start Smart initiative to increase economic security of women entering the workforce. Start Smart is a two hour seminar developed and licensed by AAUW to train women before they graduate from college on how to negotiate salaries at the start of their careers, so they are not behind the pay curve from the outset.   In order to implement this program, our members are working with three local institutions to initiate training programs to assist women when applying for jobs upon graduation.   We also seek sponsors to help facilitate this program.  For more information, email Sue Christie, suechristie@gmail.com, or Barbara Sipe, bfs4000@aol.com.
---
Branch Meetings
There are six regular branch meetings during the year in addition to the Northern District meeting in October, the December Holiday luncheon, the Annual Spring Dinner in May 2019 and the annual state meeting.
Note: Due to the current renovations at the McLean Community Center (MCC), first two of our Branch Meetings will be held at the Tysons –Pimmit Regional Library. We expect our venue to move to the MCC starting January 2019. Please check the branch monthly Newsletter for the most up-to-date information on locations, speakers and topics. Guests are always welcome.
For a list of 2018 – 2019 programs, click here. 
---
The 10th Congressional District Candidates Forum has been cancelled because Representative Barbara Comstock failed to reply to the many and varied invitations sent to her office. In his email cancelling the event, Sidney Johnson of the league of Women Voters, wrote, "We appreciate the strength of our long-term association with the AAUW of Virginia and the Fairfax chapters."
---
CELEBRATING OUR BIG 5-0!
On May 9, 1969, the McLean Area Branch was chartered by the AAUW Board of Directors as a new branch of the American Association of University Women.  Our first president was Elaine Weed, followed by Mary Ann Curry (a dual member now living in Florida), and then continuing branch member Carol Langelier.  We'll be celebrating all year with a 50th anniversary grand finale in May 2019.  Watch for more events and historical tidbits!
---
AAUW News September 2018
Ready to read, or print to keep.
Next meetings:
See our upcoming events in the right-hand column and a full list on our calendar.
Be sure to check  Activities
for details on upcoming meetings of our interest groups.
---
ANOTHER SUCCESSFUL BOOK SALE RAISING MONEY FOR WOMEN
We would like to thank our loyal patrons for helping us achieve another successful book sale.  Our 49th annual book sale raised over $40,000.  The proceeds of our book sales have been used to fund scholarships for women in local colleges; provide awards in math and science to local high school girls; fund grants and fellowships to women pursuing postgraduate degrees through endowments established by our Branch; and fund National AAUW programs such as the Legal Advocacy Fund, campus initiatives to promote women in leadership roles, STEM initiatives, and the AAUW Start Smart and Work Smart programs. The AAUW Legal Advocacy Fund works to combat sex discrimination in higher education and in the workplace.  Detailed information regarding the strategic initiatives supported by our fundraising can be found in the September issue of our Branch newsletter.  AAUW meets the highest standards of accountability, program, and cost effectiveness, and has received the Seal of Excellence from Independent Charities of America.
One of the world's largest sources of funding for graduate women, National AAUW is providing more than $3.9 million in funding for fellowships and grants to 250 outstanding women and nonprofit organizations in the 2018-2019 academic year. Our McLean branch has sponsored 4 of these awards.
Fellowship and grant recipients perform research in a wide range of disciplines and work to improve our schools and communities. Their intellect, dedication, imagination, and effort promise to forge new paths in scholarship, improve the quality of life for all, and tackle the educational and social barriers facing women in the United States and around the globe.  Some famous women who have received grants or achievement awards are:
Judith Resnik, Challenger astronaut
Rachel Carson, environmentalist, author of Silent Spring
Margaret Mead, anthropologist
Eudora Welty, writer
Sandra Day O'Connor, U.S. Supreme Court Justice
Carol Gilligan, psychologist
Antonia Hernandez, Mexican American Legal Defense and Education Fund
Marian Wright Edelman, founder of the Children's Defense Fund
Deborah Tannen, psycholinguist, professor, and author
We thank our members (and in many cases our spouses) for their tireless work in preparing and organizing the book sale.  This effort requires work to collect and collate the books, as well as staffing the book sale.   We also thank Sun Trust Bank (Vienna East) for providing space to collect and sort the books, the Spring Hill Recreation Center for hosting our book sale, and Second Story Books for their donations and ongoing support for our book sale.
Please consider joining us to celebrate our 50th anniversary.  We have a number of activities available to our members, depending on your interests.  Members participate in public policy activities, such as lobbying Congress to promote women's rights.  We also engage local universities in AAUW's Start Smart program to train women graduating to negotiate salaries so that they start their careers with pay parity.  We also have monthly programs, many of which focus on promoting women's issues, as well as book clubs, meetings to discuss current events, and breakfast meetings.  We also welcome help with our next book collection and sale.