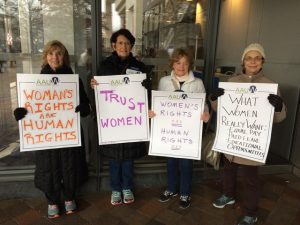 The McLean Area (VA) Branch of AAUW cordially welcomes you to our website. Founded in 1969, our branch has strongly supported AAUW's mission to advance equity for women and girls through advocacy, education, philanthropy, and research. We invite you to browse and to learn more about our branch, our annual used book sale and other branch projects, and our special interest groups. Please ask for more information when you read something that interests you.
---
Holiday Tea for Lit Group

Members of the Branch book club celebrated the holiday season with tea in Georgetown.
---
December 8 – At noon with lunch served at 1 pm
Riverbend Golf and Country Club
375 Walker Rd., Great Falls, VA
Guest Speaker: Kathleen Burns
Ms. Burns is a longtime Osher Lifelong Learning Institute instructor at George
Mason University. She was 2016-17 president of the DC Chapter of the Society
of Professional Journalists and a foreign correspondent in Australia. She has
taught at seven universities in the United States and overseas.
---
McLean Branch – Leader in Northern Virginia AAUW Start Smart Initiative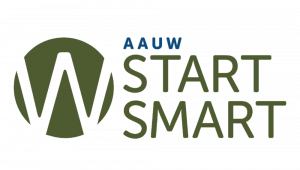 The McLean Branch has taken the lead for the Northern Virginia area in sponsoring the AAUW Start Smart initiative to increase economic security of women entering the workforce. Start Smart is a two hour seminar developed and licensed by AAUW to train women before they graduate from college on how to negotiate salaries at the start of their careers, so they are not behind the pay curve from the outset.
---
AAUW Work Smart Online
American Association of University Women have initiated the Work Smart Program, designed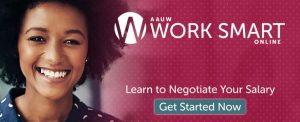 to help women close the pay gender gap by training them to negotiate for a new job, raise, or promotion.  The Program includes the following and is free and available online.  https://salary.aauw.org/
How to identify and articulate your personal value
How to develop an arsenal of persuasive responses and other negotiation strategies, including how to get a raise or promotion
How to conduct objective market research to benchmark a target salary and benefits
About the wage gap, including its long-term consequences-
---
Branch Meetings
There are six regular branch meetings during the year in addition to the Northern District meeting in October, the December Holiday luncheon, the Annual Spring Dinner in May 2019 and the annual state meeting.
Note: Due to the current renovations at the McLean Community Center (MCC), first two of our Branch Meetings will be held at the Tysons –Pimmit Regional Library. We expect our venue to move to the MCC starting January 2019. Please check the branch monthly Newsletter for the most up-to-date information on locations, speakers and topics. Guests are always welcome.
For a list of 2018 – 2019 programs, click here. 
---
50 YEARS AS A PHILANTHROPY STAR
Celebrating McLean Area Branch's 50th
One of the first decisions of the new branch was to have a used book sale to raise money for the AAUW Educational Foundation.  The first sale raised $411.20. From that point on, the book sale became our major fundraiser and grew and grew.  Since 2006 the proceeds have been close to or more than $40,000 each year, with a banner year of $50,000 in 2016.
Contributions to AAUW funds have totaled more than $680,000 and have made McLean Area Branch one of AAUW's national stars in contributions.  Through the years we completed a $75,000 American Fellowship, a $100,000 International Fellowship, and two $35,000 Research & Project Grants.  Imagine how many women have benefitted from those!
In 1989 we also began funding local scholarships for women returning to college.  That first year we gave two $250 scholarships, and last year we gave $5,000 each to Trinity, George Mason, and Marymount. To date we have given more than $175,000 in local scholarships to women returning to college, many of whom have been single mothers.
The proceeds from McLean Branch's used book sales have resulted in more than $850,000 for fellowships and scholarships for women:  a real impact on the lives of dozens and dozens of women.
---
AAUW News November 2018
Ready to read, or print to keep.
Next meetings:
See our upcoming events in the right-hand column and a full list on our calendar.
Be sure to check  Activities
for details on upcoming meetings of our interest groups.
---
ANOTHER SUCCESSFUL BOOK SALE RAISING MONEY FOR WOMEN
Detailed information regarding the strategic initiatives supported by our fundraising can be found in the November issue of our Branch newsletter.  AAUW meets the highest standards of accountability, program, and cost effectiveness, and has received the Seal of Excellence from Independent Charities of America.