The McLean Area (VA) Branch of AAUW cordially welcomes you to our website. Founded in 1969, our branch has strongly supported AAUW's mission to advance equity for women and girls through advocacy, education, philanthropy, and research. We invite you to browse and to learn more about our branch, our annual used book sale and other branch projects, and our special interest groups. Please ask for more information when you read something that interests you.
---
Join Us for our December 14th Holiday Luncheon
If you would like to join us at our holiday luncheon, please send a check for $34/person to Aroona Borpujari no later than December 5.  Details are attached.
---
Program Theme:  Equity for Women Through Inclusion and Diversity
2019
Sunday, September 22, 2 p.m.
Branch meeting and celebration of the high school junior math and science awardees and Trinity University, George Mason University, and Marymount University scholarship recipients.
McLean Community Center
Saturday, October 26, 1:00 pm
Northern District Meeting.  Speaker and agenda TBD.
Thomas Jefferson Branch of Fairfax County Library
7415 Arlington Blvd
Falls Church, VA
Tuesday, November 19, 7 p.m.
Pat Wirth, Executive Director/CEO of the Turning Point Suffragist Memorial Association, will describe the seven-decade suffragist movement to win the vote for American women and bring us to date on the memorial being built to pay tribute to the five million women who played a role in that effort.
McLean Community Center
Saturday, December 14, 12 noon
Holiday luncheon. Jennifer Wexton, elected representative from the 10th district in Virginia, will share her experiences of serving in a Congress which is the most ethnically and racially diverse in the history of the country.
River Bend Country Club, 375 Walker Rd, Great Falls, VA
2020
Saturday, Janurary 18, 10 a.m.
To commemorate Martin Luther King's Birthday, author Stephanie Deutsch will talk about her book You Need a Schoolhouse. The book tells the story of the Rosenwald Schools which were established for the children of former slaves and other impoverished African Americans.
McLean Community Center
Saturday, February 15, 10 a.m.
A film "Refusing to be Enemies: the Zeitouna Story" will be presented. This documentary profiles a self-formed group of twelve ordinary women who call themselves "Zeitouna," the Arab word for "olive tree." These six Arabs and six Jews weave an unusual and intimate tapestry of sisterhood.
McLean Community Center
Tuesday, March 17, 2020, 7 p.m.
Annual Business Meeting and Potluck
Program TBD.
McLean Community Center
Tuesday, April 21, 7 p.m.
The director of the "Women in the Military Memorial" at Arlington National Cemetery will speak on the diversity and challenges faced by women in the military.
McLean Community Center
Saturday, May 9, 12 noon
Annual Spring Luncheon.
Program and speaker TBD.
River Bend Country Club, 375 Walker Rd, Great Falls, VA
---
Branch Meetings
There are six regular branch meetings during the year at the McLean Community Center in addition to the Northern District meeting in October, the December Holiday luncheon, the Annual Spring Luncheon in May and the annual Virginia State meeting.  The theme for our 2019-2020 is "Equity for Women through Inclusion and Diversity" and the program includes:
A member from the Library of Congress discussing the suffrage movement
An author of a book discussing schools established for children of former slaves,
A documentary film about Arab and Jewish women forming a sisterhood, and
The director of Arlington Nation Cemetery "Women in the Military Memorial" discussing women in the military.
Please check the branch monthly Newsletter for the most up-to-date information on locations, speakers and topics. Guests are always welcome.
If you are interested in joining us, please contact us.
---
Next meetings:
See our upcoming events in the right-hand column and a full list on our calendar.
Be sure to check  Activities
for details on upcoming meetings of our interest groups.
---
AAUW Work Smart Online
American Association of University Women have initiated the Work Smart Program, designed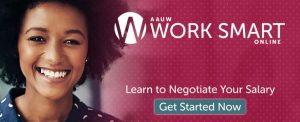 to help women close the pay gender gap by training them to negotiate for a new job, raise, or promotion.  The Program includes the following and is free and available online.  https://salary.aauw.org/
How to identify and articulate your personal value
How to develop an arsenal of persuasive responses and other negotiation strategies, including how to get a raise or promotion
How to conduct objective market research to benchmark a target salary and benefits
About the wage gap, including its long-term consequences
---
McLEAN BRANCH MEMBERS ARE LEADERS
The McLean Area Branch nurtures and encourages women leaders.  A number of our branch's current members have been elected to national, state, and community offices.
Elaine Lailas was elected by all members of AAUW as program vice president on the national AAUW Board of Directors.
Mary Ann Graham, Joanne Field, and Margie Broderick all served in elected community positions. Mary Ann served more than 20 years on the Round Hill, VA, Town Council.  Joanne served 5 years on the Fairfax County School Board, including as chair, and Margie served 4 years on the Washoe County, NV, School Board.
In McLean's Dranesville tax district Caroline Pickens and Dorothy Hassan were both elected to the McLean Community Center Governing Board, and each served as chair.
Elected by all AAUW members in Virginia, Elaine Lailas, Peggy Stotz, Nancy Richardson, and Caroline Pickens all served at presidents of AAUW of Virginia.
---
OUR PHILANTHROPIC ACTIVITIES
In its 50 years, the McLean Area Branch has been a philanthropic star, primarily through the proceeds of its annual used book sale.
More than $680,000 has been contributed to national's AAUW Funds.
The branch has endowed an American Fellowship at $75,000; an International Fellowship at $100,000; and two Research & Projects Grants at $35,000 each.
Additionally, the branch has funded more than $175,000 in local scholarships to women returning to college. In 2018 $5,000 each was awarded at Trinity, George Mason, and Marymount universities.
On the local level we have encouraged STEM careers with annual awards to women students in their junior year in math and science at McLean, Langley, and Marshall high schools.  An award is also given to the highest ranked female in the engineering category at the Fairfax County Science Fair.
AAUW meets the highest standards of accountability, program, and cost effectiveness, and has received the Seal of Excellence from Independent Charities of America.