Founded half a century ago, in 1969, our branch has a strong program in support of AAUW's mission to advance equity for women and girls. Browse our site to learn more about our goals, meetings, and other activities. Join us by becoming a member
---
Featured Speaker Program for October
SPEAKER: LIZ SIMONS
OCTOBER 17 BRANCH MEETING
7:00-9:00 PM – Come at 6:30 to Socialize
The Supreme Court Reconvenes in October—What's Behind the Scene?
Our speaker, Liz Simons, has been a docent at the Supreme Court since 2010 and will take us behind the doors. How do cases get selected? Who sets the procedures? What traditions are still followed? What humorous things have happened? Liz received her PhD from Kansas State University, taught there 19 years, and spent time with the Kansas State Supreme Court and the Kansas Bar Association Law Library. As always, our meeting is open to the public, so all are welcome.
---
From Our Public Policy Committee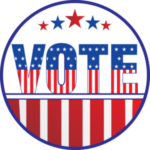 Tuesday November 7, 2023 – Election
IMPORTANT DATES
Voter Registration Deadline: October 16 for absentee ballots

11:59 p.m. online, or postmarked by mail October 16
Register online using the Virginia Department of Elections Citizen portal

Absentee Ballots will be mailed: September 22
Last Day to Request an Absentee Ballot: October 27 by 5 p.m.

This deadline applies to both online submissions and in-person submissions.
Visit Vote by Mail for more information

Deadline for Return of Vote by Mail Ballots:

November 7 by 7 p.m. if hand-delivered in-person
Postmarked on or before November 7 and received by noon on November 14 if by-mail (due to Veterans Day holiday)

Early Voting In-Person: Begins September 22, ends November 4, 2023.
Click here to download the complete notice
Click here to download the AAUW of Virginia Voter Guide
---
Branch Celebrates STEM Awardees and Scholarship Winners
At its first meeting of the year, held on September 17, 2023, at the McLean Community Center, the McLean Area Branch celebrated a group of outstanding young women awardees and scholarship winners supported by our branch.
These included six of the 10 recipients of the 2023 STEM Achievement Awards from four local High Schools, as well as the SIRA (Student Inclusion Recognition Award) winner from McLean High School and our scholarship recipients from Trinity Washington University and Bennett College in Greensboro, North Carolina.
---
Inclusion Efforts by McLean H.S. Student Recognized
The branch selected Lauren Vandivier from McLean High School as 2023 recipient of its Student Inclusion Recognition Award, which acknowledges the efforts of local high school juniors who work to make their school environments welcoming to students of all backgrounds, heritages, and abilities. Lauren received a certificate and $100 at the school's awards ceremony, where the branch was represented by Myrtle Hendricks Corrales, co-chair of the DE&I Committee, and programs co-vice president Mafalda Marrocco.
Lauren is the secretary-general of McLean High School's Model United Nations Club, was accepted into the Virginia Residential Governor's School for Humanities, and is a member of the National Honor Society and the National English Honor Society. She is a mentor to incoming freshmen as part of the McLeadership program and has been head council member of the Committee on Raising Student Voices, in which she has created an allergy awareness program and advocates for epinephrine and anaphylaxis training in all Fairfax County high schools.
The AAUW McLean Area Branch honored Lauren at the September membership meeting.
---
April Program Promotes Community Engagement
As part of the McLean Area Branch's program priorities, we have pledged greater support for community programs that increase educational and employment opportunities for girls and women in our own backyard. To strengthen our impact, we have formed a collaborative arrangement with the Falls Church AAUW Branch.
On April 18, the McLean and Falls Church branches co-hosted a program, "A Call to Action: Together Making a Difference in our Community," at which speakers from four local organizations described ways AAUW members can volunteer and otherwise provide support to help improve economic security for local women and children. The groups represented were:
Graham Road Elementary, a Title I school in West Falls Church that serves a diverse, predominately low-income population
SHARE, a McLean-based, all-volunteer organization that provides food, clothing and other basic needs to economically stressed families and individuals
ESOL program at Vienna Presbyterian Church, which provides English and citizenship classes to speakers of other languages
Welcoming Falls Church, which provides hospitality and assistance to immigrants and refugees in the community
To kick off our new program focus, Anita Booth has spearheaded efforts to support Graham Road Elementary. AAUW members can participate by donating financially or through activities such as mentoring or assisting with special events like a book fair or clothing and food drives. Contact Anita (anitabooth at gmail.com) to express your interest.
---
New Interest Group Formed on Culturally Diverse Films
The McLean Area Branch's Diversity, Equity, and Inclusion (DE&I) Committee has started a DE&I film discussion group to promote greater understanding of cultural diversity in the United States and other countries. The format is similar to the morning and evening literature groups. Members will view films independently through streaming services (some at a cost of around $2.00 to $4.00) and then meet virtually for discussion.

The group discussions, held via Zoom and led by various moderators, are held the first Wednesday of the month at 7 p.m. Anyone interested in participating should contact Ruth Nowjack-Raymer (ruthoheast at gmail.com) or Myrtle Hendricks Corrales (myrtlehencor at gmail.com). In the subject line, please write "AAUW Movie Group."
---
A Dozen New Members Come on Board
On February 18 the McLean Area Branch hosted an informal welcome brunch for new members at the McLean Community Center. Turnout was strong, with three dozen people attending, including 13 new and prospective members and the branch's co-presidents, board members, and the chairs of various committees.
As part of the orientation, longtime member Caroline Pickens presented a brief history of AAUW and various highlights over the years. Co-presidents Anita Booth and Sue Christie spoke on branch activities and explained ways new members could become involved through the committees and community engagement projects. Lots of ideas were exchanged and plans shared about future leadership roles in the branch.
---
March Potluck Honors AAUW Fellows, STEM Essay Winners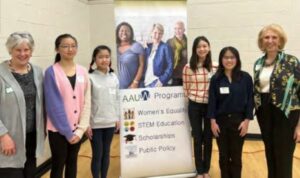 At its March meeting and potluck supper, AAUW McLean honored the recipients of several awards programs sponsored by the branch. The four honored winners of the 2023 STEM Essay Contest are shown here with branch leaders. From left, Sue Christie, branch co-president; Elaine Zhang and Michelle Lin, honorable mention, both of Longfellow Middle School; Kylie Rudinsky, second-place winner, of Cooper Middle School; Jessy Lin, first-place winner, from Longfellow; and Judy Page, STEM Committee chair. Jessy Lin read her essay at the March 14 event, which the students' parents attended as honored guests.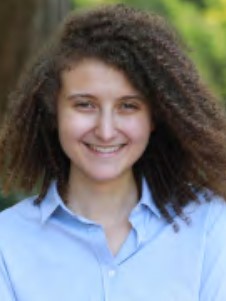 Marilyn Hajj, at right, who participated via Zoom, received the McLean Branch's International Fellowship for 2022-23. She is conducting doctoral research on U.S. taxation and poverty relief at the University of Virginia. Un Jeung Jones, shown below at left, with Sue Christie and branch parliamentarian Caroline Pickens, received the branch's Career Development and Community Service Grant for 2022-23. Jones is pursuing a dual master's degree in acupuncture and Oriental medicine at the Virginia University of Integrative Medicine.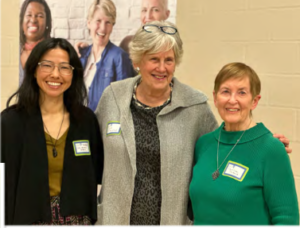 The STEM Essay Contest was open to seventh and eighth graders (girls and boys) at nine local public and private schools. Students were asked to discover and publicize women who have made a difference in science but received little or no recognition for their contributions while alive. Preference was given to essays about women still little known today. See the April newsletter (p. 6) for the subjects the contest winners wrote about.
---
Branch Monitors Policy Moves in Va. General Assembly

The year 2023 has been a very active political time, in Virginia, with the entire General Assembly up for election in November. Additionally, Senator Janet Howell (D), Delegate Kathleen Murphy (D), and Senate Leader Dick Saslaw (D) all announced their retirements.
AAUW McLean members have worked to support candidates who will fight for AAUW values in Richmond. Our continuing public policy priorities as an organization include:
Protect access to abortion and women's right to make personal reproductive decisions with their medical care providers.
Eliminate systemic racism and sexism through changes to Virginia law and regulations.
Make child care affordable and readily available for all families.
Protect full access to voting.
Ensure full public-school funding and protect teachers from harassment and liability claims.
Read more here about our Branch's public policy activities.
---
Branch Appeals AAUW Education Requirement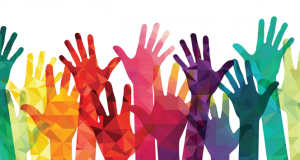 In recent months, the McLean Area Branch has mounted an effort urging National AAUW to adopt as its most most important
priority in the next year elimination of the educational requirement for AAUW membership. We have asked the national leadership to develop a rigorous strategy to bring about the policy change in 2024.
We find AAUW's education requirement for membership discriminatory and contrary to
the very values for which AAUW stands. To underline the seriousness of our concern on this issue, we reduced our contribution to the national organization as a percentage and in real dollars in our latest budget. An email sent to all members on March 5 included copies of our branch's correspondence to and from National AAUW on this matter. For more information, contact co-presidents Anita Booth or Sue Christie.
---
DE&I Committee Develops Strong Program of Activities
Our branch has developed a strong commitment to diversity and inclusion actions under the guidance of our DE&I Committee, formed in the 2021-22 program year. The committee has developed a broad list of activities and recommendations to guide the branch's efforts in this area.
At the committee's urging, our morning and evening book clubs now include works with relevant DE&I themes in their reading lists. Our Public Policy Committee informs members of DE&I issues under consideration in Congress and the Virginia legislature. We started a Student Inclusion Recognition Award to recognize high school students who encourage DE&I-related activities in their schools, and we extended our scholarship program to include the historically Black Bennett College in North Carolina.
See item above on the committee's formation of a new interest group to discuss films of culturally diverse stories and themes.
---
Turn Your Shopping Into Support for Our Branch

Members can provide continuing financial support for the McLean Area Branch by using ShopRaise for online shopping. Revenue from the partnership, established last fall, helps us fund our scholarships, awards, and other programs. The 1,000-plus stores in the program include major retailers such as Macy's, L. L. Bean, Bed Bath & Beyond, Lowe's, Home Depot, Walgreens, Walmart, and Staples.
Click here to obtain the ShopRaise app for your computer; on a mobile phone or tablet, search for ShopRaise in the Apple App Store or Google Play Store. More instructions are available here.
---
McLean Branch Achieves 5-Star Status in AAUW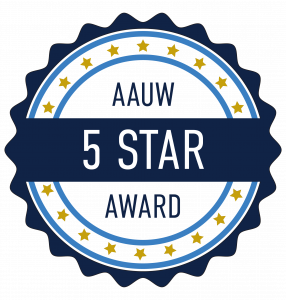 In June 2022, we achieved the distinction of being named a 5-Star Branch of AAUW. The recognition came in response to the success of our work in five areas:
Programs
Advancement: Fundraising and Membership
Communications and External Relations
Public Policy and Research
Governance and Sustainability
Our branch's excellence stems from the passion and dedication of our members. Our latest membership rolls reflect a renewal rate of over 90%! To join us, visit our membership page for more information or download an Application Form.
---
Check It Out: AAUW's 'Work Smart' Tips to Boost Your Salary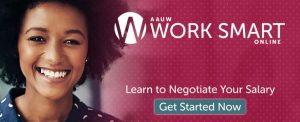 AAUW's Work Smart Program is designed to help women close the gender gap in pay by developing the skills they need to negotiate advancement opportunities. The online learning tool is free and accessible at this link.
---
Members of Our Branch Excel in Leadership Positions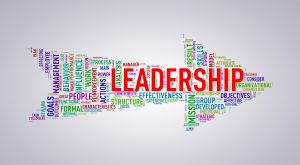 We have an extraordinary range of talent and leadership skills across our membership. Apart from professional accomplishments, a large number of women in AAUW McLean have been elected to national, state, and local offices in AAUW and their communities. Here's a sample.