The McLean Area (VA) Branch of AAUW cordially welcomes you to our website. Founded in 1969, our branch has strongly supported AAUW's mission to advance equity for women and girls through advocacy, education, philanthropy, and research. We invite you to browse and to learn more about our branch, our annual used book sale and other branch projects, and our special interest groups. Please ask for more information when you read something that interests you.
---
McLean Branch Celebrates the Holidays
On December 14th, our members celebrated the holidays by hosting a luncheon at the Riverbend Golf and Country Club in Great Falls.  We shared great conversation and delicious food.  Our guest speaker was Jennifer Wexton, the Virginia 10th District Congressional Representative, who updated us on the latest initiatives being sponsored by the House of Representatives.  This discussion was part of the programs being sponsored this year by our Branch as discussed below.
---
Branch Meetings
There are six regular branch meetings during the year at the McLean Community Center in addition to the Northern District meeting in October, the December Holiday luncheon, the Annual Spring Luncheon in May and the annual Virginia State meeting.  The theme for our 2019-2020 is "Equity for Women through Inclusion and Diversity" and the program includes:
Presentation on the suffrage movement
An author of a book discussing schools established for children of former slaves,
A documentary film about Arab and Jewish women forming a sisterhood, and
The director of Arlington Nation Cemetery "Women in the Military Memorial" discussing women in the military.
Please check the branch monthly Newsletter for the most up-to-date information on locations, speakers and topics. Guests are always welcome.
If you are interested in joining us, please contact us.
---
Next meetings:
See our upcoming events in the right-hand column and a full list on our calendar.
Be sure to check  Activities
for details on upcoming meetings of our interest groups.
---
2020 Book Collection and Sale Dates
May 2 – CANCELLED*
* May collection is cancelled due to COVID-19.  We may be adding an additional collection date during the summer.  Please check our website for periodic updates.
The McLean Branch of AAUW will be collecting books, CDs and DVDs from 9am to 1pm at SunTrust Bank, 515 Maple Avenue East, Vienna, VA on the following dates:
May 2
June 6
July 11
August 8
We do Not accept encyclopedias, magazines, vinyl records, VHS and audio tapes.
Our 2020 Book Sale will be held at the McLean Community Center, 1234 Ingleside Avenue, McLean, VA on the following dates:
September 11
September 12
September 13
Questions:  aauwbookfair@gmail.com    703-527-4206
---
AAUW Work Smart Online
American Association of University Women have initiated the Work Smart Program, designed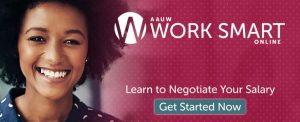 to help women close the pay gender gap by training them to negotiate for a new job, raise, or promotion.  The Program includes the following and is free and available online.  https://salary.aauw.org/
---
McLEAN BRANCH MEMBERS ARE LEADERS
The McLean Area Branch nurtures and encourages women leaders.  A number of our branch's current members have been elected to national, state, and community offices.
Elaine Lailas was elected by all members of AAUW as program vice president on the national AAUW Board of Directors.
Mary Ann Graham, Joanne Field, and Margie Broderick all served in elected community positions. Mary Ann served more than 20 years on the Round Hill, VA, Town Council.  Joanne served 5 years on the Fairfax County School Board, including as chair, and Margie served 4 years on the Washoe County, NV, School Board.
In McLean's Dranesville tax district Caroline Pickens and Dorothy Hassan were both elected to the McLean Community Center Governing Board, and each served as chair.
Elected by all AAUW members in Virginia, Elaine Lailas, Peggy Stotz, Nancy Richardson, and Caroline Pickens all served at presidents of AAUW of Virginia.
---
OUR PHILANTHROPIC ACTIVITIES
In its 50 years, the McLean Area Branch has been a philanthropic star, primarily through the proceeds of its annual used book sale.
More than $680,000 has been contributed to national's AAUW Funds.
The branch has endowed an American Fellowship at $75,000; an International Fellowship at $100,000; and two Research & Projects Grants at $35,000 each.
Additionally, the branch has funded more than $175,000 in local scholarships to women returning to college. In 2018 $5,000 each was awarded at Trinity, George Mason, and Marymount universities.
On the local level we have encouraged STEM careers with annual awards to women students in their junior year in math and science at McLean, Langley, and Marshall high schools.  An award is also given to the highest ranked female in the engineering category at the Fairfax County Science Fair.
AAUW meets the highest standards of accountability, program, and cost effectiveness, and has received the Seal of Excellence from Independent Charities of America.