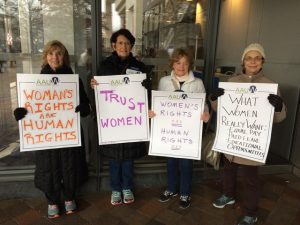 The McLean Area (VA) Branch of AAUW cordially welcomes you to our website. Founded in 1969, our branch has strongly supported AAUW's mission to advance equity for women and girls through advocacy, education, philanthropy, and research. We invite you to browse and to learn more about our branch, our annual used book sale and other branch projects, and our special interest groups. Please ask for more information when you read something that interests you.
Ready to read, or print to keep.
Next meetings:
See our upcoming events in the right-hand column and a full list on our calendar.
Be sure to check  Activities
for details on upcoming meetings of our interest groups.
WE ARE ALREADY PLANNING FOR OUR NEXT BOOK SALE, AUGUST 31- SEPTEMBER 2.     MARK YOUR CALENDARS!!!!
Know Your Rights: Workplace Sexual Harassment
Articles

Other Materials
Sexual harassment is a form of sex discrimination that violates Title VII of the Civil Rights Act of 1964. Very generally, "sexual harassment" describes unwelcome sexual advances, requests for sexual favors, or other verbal or physical conduct of a sexual nature. Title VII is a federal law that prohibits discrimination in employment on the basis of sex, race, color, national origin, and religion, and it applies to employers with 15 or more employees, including federal, state, and local governments.
Even with Title VII's protections, many people across the country still face sexual harassment in their workplaces. This page offers basic information about sexual harassment and guidelines for next steps if you believe you may be experiencing sexual harassment at work.
TO EXPAND
Are there different types of sexual harassment claims?
What kinds of behavior could be considered sexual harassment?
Can one incident of harassment or offensive behavior constitute sexual harassment?
Can my employer punish me because I complained about sexual harassment?
Are there other laws besides Title VII that prohibit sexual harassment in the workplace?
What should I do if I believe I am facing sexual harassment at work?
What will the EEOC do after I file a complaint?
I'm not sure yet if I want to file an EEOC charge or make a formal complaint to my employer. What steps can I take to protect myself?
(To print this page, use the "Print" button near the top right.)
---
Related
Sexual harassment and sexual violence disproportionately affect college women and impede their ability to participate fully in campus life.
Just as small acts of sexism can harm us, small acts of protest can empower us — and help build the change society needs.
Make yourself heard on issues like fair pay, judicial nominations, and Title IX. We make it easy for you to contact your representatives.