The McLean Area (VA) Branch of AAUW cordially welcomes you to our website. Founded in 1969, our branch has strongly supported AAUW's mission to advance equity for women and girls through advocacy, education, philanthropy, and research. We invite you to browse and to learn more about our branch, our annual used book sale and other branch projects, and our special interest groups. Please ask for more information when you read something that interests you.
---
Mclean Area Branch Celebrates in person Holiday Luncheon at the River Bend Country Club with guest speaker Jeanne ward
---
2021 Fundraiser Results
Our 2021 fundraiser for AAUW Funds and our branch local scholarships program for women returning to college ran from June 1-August 15. It included an outreach directly to members and a GoFundMe fundraiser to the public. Seven National's baseball memorabilia items, shown below, were signed by Max Scherzer and were included in the GoFundMe fundraiser. Donors to our GoFundMe fundraiser had the opportunity to own one of these items through a randomized blind drawing which took place on August 24th.
The grand total of our fundraising efforts was $21,908.17. The McLean Area Branch of the American Association of University Women is most grateful to Erica and Max Scherzer for their generous contribution of memorabilia for our fundraiser, as well as everyone who generously donated to promote our mission to advance equity for women and girls through advocacy, education, philanthropy and research.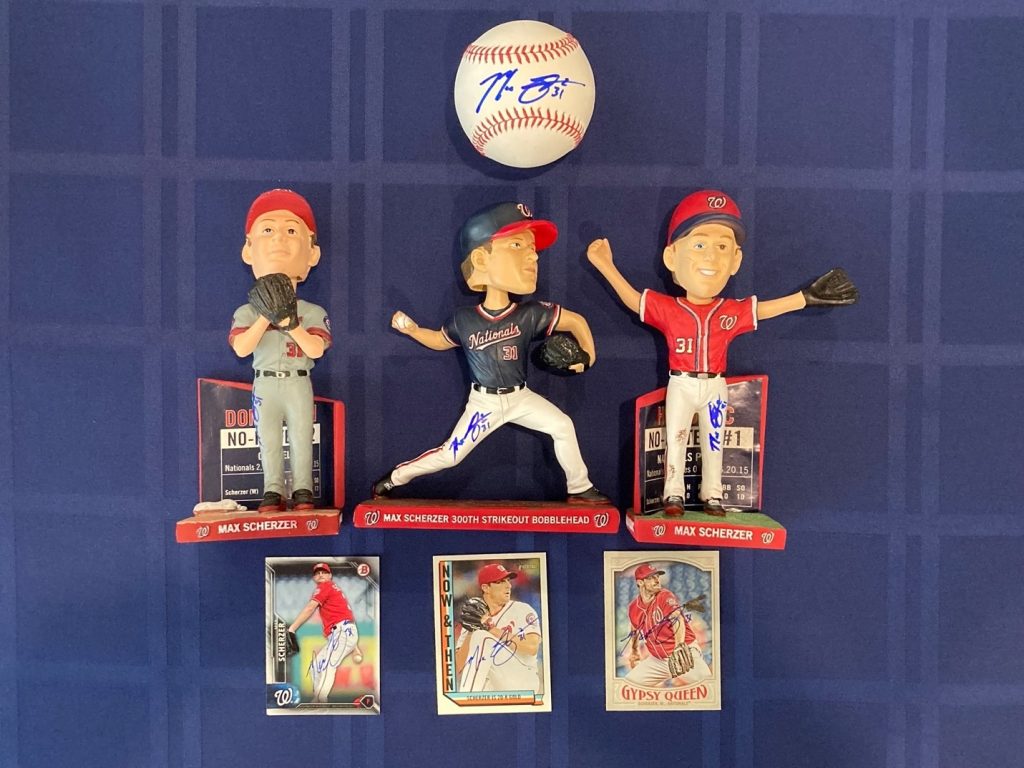 ---
As an Amazon Associate we earn from qualifying purchases.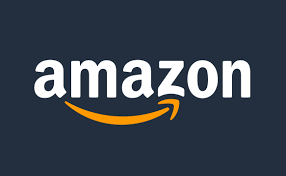 ---
Membership Renewal
It is membership renewal time. You may renew online or by check until the end of August. We request to please send in your renewals by then, so the renewed member's names can be put in this year's directory. Your membership continues the Branch support for women returning to college and the opportunity to participate in outstanding Branch programs.
---
Next Meetings:
If you wish to receive an invitation to a meeting below, please click here.
January Program 2022
AAUW-VA is presenting
How to Create Inclusive Spaces.
The date is Saturday, January 22, 2022, from 10:00-11:30 a.m.
JOIN US AS WE LEARN WHAT IT MEANS TO CREATE INCLUSIVE SPACES.
The esteemed panel members are:
Krysta Jones, Somya Dwivedi-Burks, Ph.D. and Jonathan Zur
Click here for more info and Zoom link
---
February Program 2022
AAUW Mclean Area Branch presents the following program
Date: February 12, Saturday at 10:00 am
Via ZOOM
"You Need a Schoolhouse, the Remarkable Story of Julius Rosenwald "
Julius Rosenwald was a successful businessman who headed Sears Roebuck & Co.in its early years. He was also a philanthropist who worked in collaboration with Booker T. Washington to build 5000 schools for African-American children in the South during the 1920s and '30s. Our program will feature the film Rosenwald, the Remarkable Story of a Jewish Partnership with African American Communities, a 90-minute documentary written and directed by Aviva Kemper.
Following the film, Stephanie Deutsch, author of You Need a Schoolhouse, her book about the Rosenwald schools, will discuss and answer questions about Rosenwald, her book and the film.
To join the meeting please send in a request and we will send a Zoom link to you.
---
McLean Branch Celebrates our Student STEM Award Recipients
STEM Award Recipients Honored at McLean AAUW Branch Event. Six female high school students are the recipients of the 2021 STEM Achievement Awards presented by the McLean Area Branch of AAUW. The recipients are Susan Shobeiri (Math), Vivian Kreeb (Science), and Alex Vasilcoiu (Computer Science) from McLean High School, and Mary Zhou (Math), Anvitha Puritipati (Science), and Summer Parise (Computer Science) from Langley High School. The branch recognized the students' accomplishments at the September 19, 2021, branch event on Zoom. Shown are: first row, Myrtle Hendricks-Corrales, liaison for McLean High School; second row, from left, Nina McVeigh, liaison for Langley High School; and Alex Vasilcoiu, recipient of the 2021 Computer Science Achievement Award at McLean High School, with her parents Cornelia and Dan Vasilcoiu.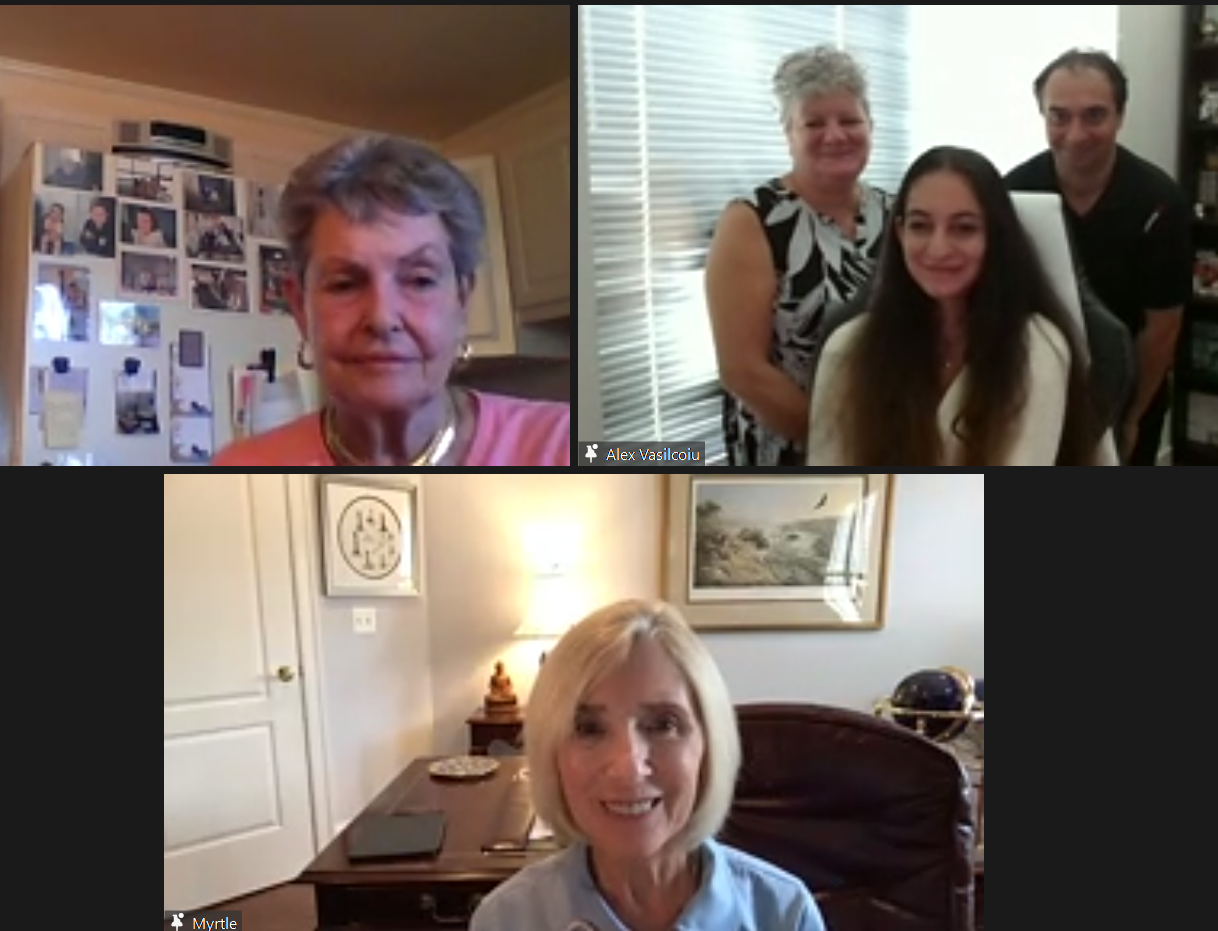 ---
AAUW Work Smart Online
American Association of University Women have initiated the Work Smart Program, designed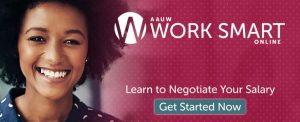 to help women close the pay gender gap by training them to negotiate for a new job, raise, or promotion. The Program includes the following and is free and available online. https://salary.aauw.org/
---
McLEAN BRANCH MEMBERS ARE LEADERS
The McLean Area Branch nurtures and encourages women leaders. A number of our branch's current members have been elected to national, state, and community offices.
Elaine Lailas was a member of the McLean Community Center for 6 years and was Governing Chair for 2 years, including during one of MCC's renovations. She was also elected by all members of AAUW as program vice president on the national AAUW Board of Directors.
Mary Ann Graham, Joanne Field, and Margie Broderick all served in elected community positions. Mary Ann served more than 20 years on the Round Hill, VA, Town Council. Joanne served 5 years on the Fairfax County School Board, including as chair, and Margie served 4 years on the Washoe County, NV, School Board.
In McLean's Dranesville tax district Caroline Pickens, Dorothy Hassan, Diane Alden and Rebecca Horahan were all elected to the McLean Community Center Governing Board, and Caroline Pickens and Dorothy Hassan served as chair.
Elected by all AAUW members in Virginia, Elaine Lailas, Peggy Stotz, Nancy Richardson, and Caroline Pickens all served at presidents of AAUW of Virginia.
Deborah DeMasi has served on the Board of Directors of the Northeast-Midwest Institute since 2012.
---
OUR PHILANTHROPIC ACTIVITIES
In its 51 years, the McLean Area Branch has been a philanthropic star, primarily through the proceeds of its annual used book sale.
More than $680,000 has been contributed to national's AAUW Funds.
The branch has endowed an American Fellowship at $75,000; an International Fellowship at $100,000; and two Research & Projects Grants at $35,000 each.
Over our 50 years of fundraising, we have raised over $190,000 supporting scholarships for university women, as well as funding fellowships and research grants.
In 2019, awarded scholarships of $7,000 to three women from Marymount, Trinity, and George Mason Universities.
On the local level we have encouraged STEM careers with annual awards to students in their junior year in math and science, and recently added computer science at Mclean, Langley, and Marshall. We have also given awards to the highest ranked female in the engineering category at the Fairfax County Science Fairs.
AAUW meets the highest standards of accountability, program, and cost effectiveness, and has received the Seal of Excellence from Independent Charities of America.