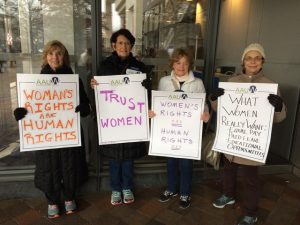 The McLean Area (VA) Branch of AAUW cordially welcomes you to our website. Founded in 1969, our branch has strongly supported AAUW's mission to advance equity for women and girls through advocacy, education, philanthropy, and research. We invite you to browse and to learn more about our branch, our annual used book sale and other branch projects, and our special interest groups. Please ask for more information when you read something that interests you.
---
2019 – Mclean Branch AAUW – 50th BOOK SALE AND COLLECTIONS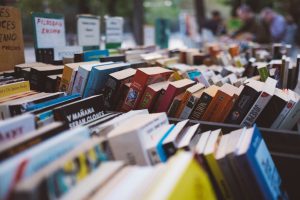 The McLean Branch of AAUW will be holding it 50th Book Sale at the McLean Community Center on the following dates:
Friday, September 13, 2019 from 9am-7pm
Saturday, September 14, 2019 from 10am-6pm
Sunday, September 15, 2019 from 12-4pm
Come and buy our books and contribute to our fundraiser for local scholarships.
We will be selling books for children, and a wide variety of other books, including history, current events, military history, biography, literature, fiction, mystery, science fiction, religion and philosophy, cookbooks, economic, business, law, psychology, science, mathematics, travel, art, music, theater, pets and animals, and books in foreign languages.  We also sell DVDs and CDs.  We have a room with special books that often include signed or first editions and vintage books.  The link provides a list of some of these special books
---
Our 50th Anniversary
McLean Branch Celebrates 50th Anniversary On May 11, 2019, the Mclean Area Branch of AAUW celebrated 50 years since its establishment. The evening celebration at the McLean Community Center was attended by 98 long-time and new members, including 19 past branch presidents, two of whom came from New Mexico and one from New Jersey for the occasion.   Supervisor John Foust presented a proclamation from the Fairfax County Board of Supervisors detailing the many contributions the branch has made to the community.   Virginia AAUW Co-President Leslie Tourigny also brought a proclamation from the Virginia Board in honor of the occasion.  The evening featured a musician who performed songs from 1969, a fun trivia quiz from that era, and a sumptuous buffet.
---
Branch Meetings
There are six regular branch meetings during the year at the McLean Community Center in addition to the Northern District meeting in October, the December Holiday luncheon, the Annual Spring Dinner in May and the annual Virginia State meeting.  We have developed our program list for 2019-2020.  Please join us.  For a list of these programs see.  Please check the branch monthly Newsletter for the most up-to-date information on locations, speakers and topics. Guests are always welcome.
---
Next meetings:
See our upcoming events in the right-hand column and a full list on our calendar.
Be sure to check  Activities
for details on upcoming meetings of our interest groups.
---
Holiday Tea for Lit Group

Members of the Branch book club celebrated the holiday season with tea in Georgetown.
---
AAUW Work Smart Online
American Association of University Women have initiated the Work Smart Program, designed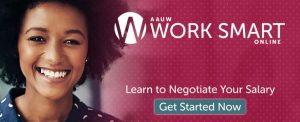 to help women close the pay gender gap by training them to negotiate for a new job, raise, or promotion.  The Program includes the following and is free and available online.  https://salary.aauw.org/
How to identify and articulate your personal value
How to develop an arsenal of persuasive responses and other negotiation strategies, including how to get a raise or promotion
How to conduct objective market research to benchmark a target salary and benefits
About the wage gap, including its long-term consequences
---
McLEAN BRANCH MEMBERS ARE LEADERS
The McLean Area Branch nurtures and encourages women leaders.  A number of our branch's current members have been elected to national, state, and community offices.
Elaine Lailas was elected by all members of AAUW as program vice president on the national AAUW Board of Directors.
Mary Ann Graham, Joanne Field, and Margie Broderick all served in elected community positions. Mary Ann served more than 20 years on the Round Hill, VA, Town Council.  Joanne served 5 years on the Fairfax County School Board, including as chair, and Margie served 4 years on the Washoe County, NV, School Board.
In McLean's Dranesville tax district Caroline Pickens and Dorothy Hassan were both elected to the McLean Community Center Governing Board, and each served as chair.
Elected by all AAUW members in Virginia, Elaine Lailas, Peggy Stotz, Nancy Richardson, and Caroline Pickens all served at presidents of AAUW of Virginia.
---
OUR PHILANTHROPIC ACTIVITIES
In its 50 years, the McLean Area Branch has been a philanthropic star, primarily through the proceeds of its annual used book sale.
More than $680,000 has been contributed to national's AAUW Funds.
The branch has endowed an American Fellowship at $75,000; an International Fellowship at $100,000; and two Research & Projects Grants at $35,000 each.
Additionally, the branch has funded more than $175,000 in local scholarships to women returning to college. In 2018 $5,000 each was awarded at Trinity, George Mason, and Marymount universities.
On the local level we have encouraged STEM careers with annual awards to women students in their junior year in math and science at McLean, Langley, and Marshall high schools.  An award is also given to the highest ranked female in the engineering category at the Fairfax County Science Fair.
Detailed information regarding the strategic initiatives supported by our fundraising can be found in the November 2018 issue of our Branch newsletter.
AAUW meets the highest standards of accountability, program, and cost effectiveness, and has received the Seal of Excellence from Independent Charities of America.