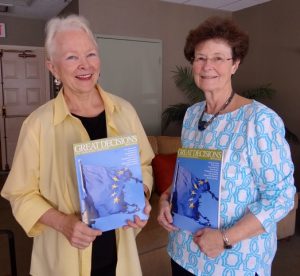 Great Decisions Discussion Group
Guided by a book published annually by The Foreign Policy Association, participants meet monthly to discuss one of the year's eight topics and view a short video highlighting the material covered in a printed article. Meetings are in private homes, starting in February, on the third Tuesday of the month at 9:30 a.m. Books for the group are pre-ordered at a discount in mid-October and distributed in January.  A monthly reminder of meeting place and date is sent to all members with a request to notify the hostess if they plan to attend.  Being part of this group helps to expand your knowledge of US foreign policy and learn more about global issues.
To find out more about Great Decisions go to the website: www.greatdecisions.org. To find out more about our group, to order a book for the upcoming year, or to attend an individual discussion,  contact us.